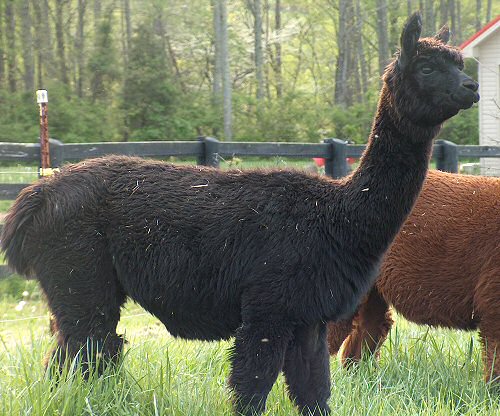 Name:

Tullipan

Fleece Type:

Huacaya
Sire Name:
Midnight Elegance

Color:

True Black
Dam Name:
Ore Hill Raymonda

Sex:

Female

Birthdate:

6/04/02

Description:
Tullipan is cherished part of our original foundation herd. She is of Chilean heritage out of an exquisite gray dam and a beautiful black male import. She is very sweet natured, has a delicately shaped head and has fine true black fleece. She has thrown two beautiful true black crias and one bay black. In 2008 she was bred to our Snowmass Rembrant and produced a really nice dark brown, show quality male. Tullipan can be bred back to Snowmass Rembrant with purchase. We are hesitant on how to price her because we like her so much, but give us a call and let's talk!
Price:
Call for Pricing: 859-624-4277
If you are considering one or more of our alpacas, please allow us
to put together a specially priced package deal customized
to suit your needs.
Feel free to contact Greg & Eve at Foxwood Farm Alpacas.